Melville Captures 3rd National Race Walk Title
 (05/19/2013 - Riverside, CA) - For the 2nd consecutive year, and third of her career, NYAC's Miranda Melville has won the USATF 15km senior women's National Race Walk Championship in Riverside, CA. Her win with a 1:11:40 was a huge improvement over last year's time of 1:17:55, and came just two weeks after a 46:09 2nd place finish at the USA 10,000m Racewalk championships in Farmingville, NY.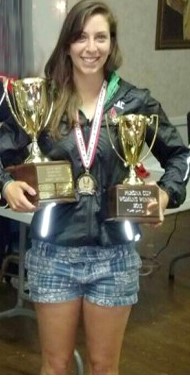 Melville said "It's a real confidence booster to see improvement. This was a truly fun race, the crowd was full of enthusiasm and it was great to have someone like Erin Grey to race with. Nothing beats having someone to be excited with you and to work with through a race."
 Next on the itinerary for the 2013 Women's Sports Foundation and Rochester Amateur Athletic Federation grant recipient, is a June 22nd 20km race in Des Moines, IA at the USA Outdoor Track and Field Outdoor Championships. The 2013 Championships will serve as the selection event for the 3 coveted spots on Team USA at the IAAF World Championships August 10 - August 18 in Moscow, Russia.